UNDER CONSTRUCTION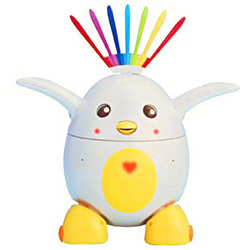 Pecoron (ペコロン) is a Japanese interactive toy robot which resembles a bird
that looks like an egg. Pecoron was sold by Sega Toys in 2003, as a second character in a joint project with Horipro Co., Ltd.
A toy series called Ocha-ken (Tea dog) was a part of the joint project, and was released before Pecoron.
The release of Pecoron was followed by merchandise such as plush toys, mini figures in plastic eggs, mini straps with beads, clothing, and stationery supplies.
Another interactive toy which followed its release was Palm Pecoron, a rare, smaller version of the toy that could move its arms up and down,
talk, and interact with the larger version of Pecoron. Pecoron retailed for ¥5,980.
Features
Pecoron has a head that turns from side to side,a removable set of rainbow plastic feathers on his head, a moving pair wings, brown eyes that blink, wheels beneath
his feet to help him move as he speaks, and a beak that opens and closes. Pecoron uses 3 AA Batteries and 2 LR44 batteries according to the official website and manual. Pecoron has an off and on switch and can be switched to another setting that prevents Pecoron from walking while talking.